Your shopping cart is empty!
20 Ton ESCO Air / Manual Bottle jack with Return Springs
Brand:
ESCO
Product Code:
ESC10450
Availability:
In Stock
map not in use
Yellow Jackit 20 Ton Air/Manual Bottle Jack (Screw On Base)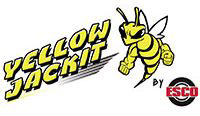 The Yellow Jackit Line of Air Hydraulic Lifting Equipment is designed with the heavy duty tire service market in mind. With lifting capacities from 20 Ton and up to 50 Tons, There is a Jack that will fit any service technician's needs. Each jack designed uniquely for specific application including: Commercial truck, Bus, Tractor & Farm Equipment, and much more.
Screw on Base
Chrome-plated pump piston and ram for added rust resistance
Extension screw gives added height when necessary
Return springs for faster descent
Lifting Capacity: 20 Ton
Min. Height: 10.3-Inch | 262mm
Max. Height: 19.2-Inch | 488mm
Weight: 35 lb. | 16 kg
Powered By BGI
Buzzard Gulch Online © 2021